Don't tell Rick Stein, but we think that Brixham has started becoming a bit of a foodie destination on the quiet over the last few years.
If you are looking for a restaurant guide, or recommendations as to the best places to eat and drink in Brixham then the following list is by no means exhaustive, but it does cover most of our favourite eating and drinking places in the town!
Rockfish – at end of harbour is probably top of the list, with fabulous fish and great views over the port so you can see tomorrows meal being unloaded as you eat. They also have a good take-away chippie, and (now) a fishmongers.
The Curious Kitchen is brilliant for breakfast/lunch/brunch – on Middle Street (across the car park from the main high street – which is actually called Fore Street). They do amazing donuts, and look out for their weekend "TKC at Night" special menus.
Simply Fish has (we think) the best take-away fish and chips in town, and a proper sit-down restaurant with a mostly fish-based menu. It's our preferred takeaway , the restaurant just does walk-ups. As well as the usuals, their monkfish and prawn curry is great, and their curry sauce is our go-to 'side'.
Shoals (a 15 minute walk along the coast by the lido) is tiny, but really high quality restaurant which also has tables outside for lunch or a drink and is owned by the Perkes family of legendary Brixham fisherfolk. Amazing views across Torbay as you eat, and amazing food too, as you can see from these photos from summer 2022.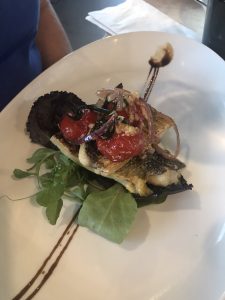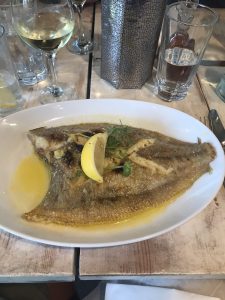 You'll definitely need to book – and Shoals sadly tends to be closed in the off season too.
Breakwater Bistro (by the beach). Always used to be our favourite place to have a cream tea with a view, however post-pandemic it has started to major on being the place to get yourself a drink and sit on the beach of a summers evening, listening to their regular live music.
Beamers sit-in restaurant with good seafood menu right on the inner harbour above some of the shops facing the house.
Albero – a very good "pizza+" restaurant which seems also to have nailed the "outdoor seating that's warm" conundrum too – pizza is great, but they also do seafood. They now have a sister restaurant just along the waterfront called Mangare (that's got largely the same menu).

The Guardhouse at Berry Head – This is 'the' morning brunch cafe for us up on Berry Head in the old fort. When you take a walk up there make sure you have left room for their bacon sandwiches and/or cakes!
The Prince William – the big "outside" pub by the Marina is great on a sunny day – owned by the same people who run Liberty, and with a decent kitchen too.
The Market House – the large pub/gastro pub on the harbour opposite the pirate ship, with plenty of outside space. Always a safe choice, even though it's got a hint of brewery-owned 'chain' pub about it – the other advantage is that you can see how busy it is from the front windows of our house !
Liberty – An eclectic mix of cocktail and drinks in the evening, speciality teas and cakes in the day – and very non-Devon interior decor to match. It has outside tables across the road under the market awning in the summer too.
Port Expresso (on Middle Street) is an artisan coffee place that has branched out into brunches, home to our favourite bacon sandwiches in Brixham
The Manor just up from Middle Street is a top choice pub in Brixham, deceptively large and with both inside and outside space to sit and have a drink or two.
5 Doors Up Brixham's already-legendary (to locals) artisan bakery on Middle Street, which regularly sells out of its entire stock of bread by mid-morning (their Sourdough is to die for), although luckily The Curious Kitchen will often have some loaves that they are prepared to sell you retail as well. You can order online for collection via their website, although they are not open every day so use the binoculars in the lounge to check before you head down the steps into town!
The Harbour Diner (the yellow building on the quayside) does a cracking and reasonably priced "greasy spoon cafe" breakfast in a top floor dining room. Worth seeking out their rather hidden doorway and staircase (near Liberty).
Dilly Dally Tea Room is run by a couple from London "living the dream" in Brixham, and is an award-winningly top choice for a Full English, as well as cakes and lunches. You probably need to book – which for a cafe serving Full English is a pretty strong recommendation indeed!
The Wine Loft is both a remarkably well-stocked independent wine shop and a contemporary bar for a lunchtime/afternoon drink and a plate of tapas-style food – they close around 6pm each day.
The Larder on Bolton Street (just past the 'Spoons) is also good for brunch, and can go toe-to-toe with Port Expresso for top coffee any day of the week.
The Blue Anchor is a good proper Devon pub, one of the most pirate-ey places in the town and has live music on most nights of the week as well.
The New Quay Inn (when it's open) is nice and cosy, and is the home of Deckchair Gin – definitely a souvenir worth taking home as well as trying while you are here.
Fishcombe Cove Café on the (pebbly) each in Fishcombe cove is a great spot to make an (early) stop on a coastal walk towards Paignton. Over the summer make sure to check out their Facebook page for any special evening events when they are open until sunset as well.
Quay 57 – a harbour side breakfast staple, with a solid steak and pizza offering of an evening too.
The Crafty Cwtch tea room on Middle Street does a nice line in scones, jam and clotted cream – and they do it as a takeaway too if you fancy tucking in back at the house while taking in the view.
If you're looking for other things to do, we also have a guide to the local area as well on this site.